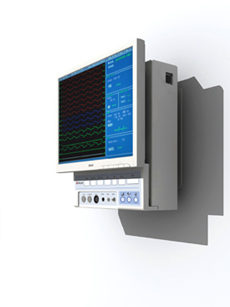 Solar 2000N is specially designed for neurological ICU. For the first time, it highly integrates Multi-channel EEG (8/16 channels) with vital signs to oriented the first Nero-monitoring system with wholesome brain function test and analysis.Solar 2000N can make a long and real time reflection of changeable status and correlation of CNS function and physiological parameters. Absorbing in application to ICU, Brain status monitoring/ analysis, Solar 2000N can be suitably adopted to SU, NICU, Epilepsy Dept., Neurology and Neurosugery.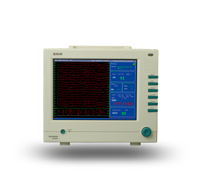 Special clinical network, long distance monitoring
Provide patient monitoring in separate ward; availability to form network diagnosis in department by exchanging patient's data on line; availability to exchange information and share resources with relative departments such as CT, MRI, EEG Lab., etc.
Exoteric system based on clinical application Compose applications of various scales and requirements by combine groupware of analysis station, Video EEG module, Sleep & Respiration module and Ambulant EEG Holter. Intact expansion will be kept by this ^vivid ̄ system according to the application program.
Multi-parameter monitoring
EEG 、 ECG 、 NIBP 、 SpO2 、 RESP 、 PR 、 TEMP 、 EMG 、 EOG
Universe clinical application
Intensive Care to Hemorrhagic &Ischemia cerebrovascular diseases; Intensive care to brain injury, Tumour, Intoxication, Infection and other CNS disease; Epilepsy and Epilepsy SE; Monitoring and Diagnosis to Sleep Disorders and Sleep Aprea Symdrom.
Multi-analysis functions
Monitoring and analysis on changeable status of brain function; Monitoring and evaluation to conscious disabled and Coma degree of Patients; Automatic staging and analysis of sleep courses and monitoring of relative diseases (Optional); Video EEG, monitoring of long-term Epilepsy and Epilepsy SE (Optional); Monitoring and analysis of Ambulant EEG Holter (Optional); Transaction of Radiation Image; Parallel analysis on brain functions and structure (Optional), etc.
Please contact us for more details