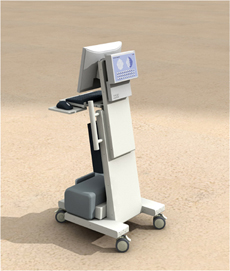 Solar1848 Quantitative Digital Electroencephalograph
Solar1848 takes over the excelsior design principle of Solar Technologies, by adopting various combination and expansion of groupware to fulfill the application requirements of Routine EEG examine, it is a new version EEG examine system focusing on capability and multi-function practice.
Micro-electronics design, high-compacted amplifier, super anti-interference capacity
Separate amplifier for each channel enables continuous and stable record;
ECG and RESP record with flash Physi-Evoke device;
Unique srtucture of trolley, internationalized while convenient operation;
Reasonable design and adoption of special transducer to enable the patient's movement during long-term monitoring;
Persistent and long-term record over 48 hours.
Expediently choose 8, 16, 24, 32 channels EEG examine according to different purposes and patients.
Flexible combination of groups time and filter constants;
Adjustable sample rate and sensitivity;
Flexible swich on single, bipolar, triangular, sphenoid and bio-calibrating;
Flash stimulator, frequency adjustable;
Real-time spectrum monitoring;
EEG Map;
Regular person reference and 8 ratios-examine applied for clinical diagnosis;
Unify output of data and image, flexible report compile;
Extension of Video EEG avaiable;
Extension of EEG Holter available.
Please contact us for more details